Together with Active Connector
Already from the age of seven, Ms. Osumi became interested in Japanese language. She earned a Master's degree in Japanese linguistics and initially came to Japan as an exchange student in 2005. Thanks to her multilingual skills, Ms. Osumi was offered a job by Nifco, where she mainly worked on translation between English and Japanese, as well as liaised with overseas offices. Last year, Ms. Osumi joined The Japan Times as a writer, which is a hectic but very fulfilling job. While translation constitutes a major part of her daily work, she also conducts interviews and writes her own articles.
Although experienced hurdles in communicating with co-workers in the beginning, Ms. Osumi has adapted well and is happy with her current working environment, which is international, open and working-mother friendly. She is very positive about the changes happening around her. People are more willing to embrace cultural diversities and Japanese companies are also increasingly hiring foreign workers to internationalize.
Through her endeavors, Mr. Osumi utilizes her expertise and has found her satisfaction in Japan. At the end, she shared with us a few tips on living and working abroad: 1) not being afraid of failure 2) keeping on interacting with people and getting inspired, and 3) not hesitating to ask for help. Thank you Ms. Osumi for your time with us.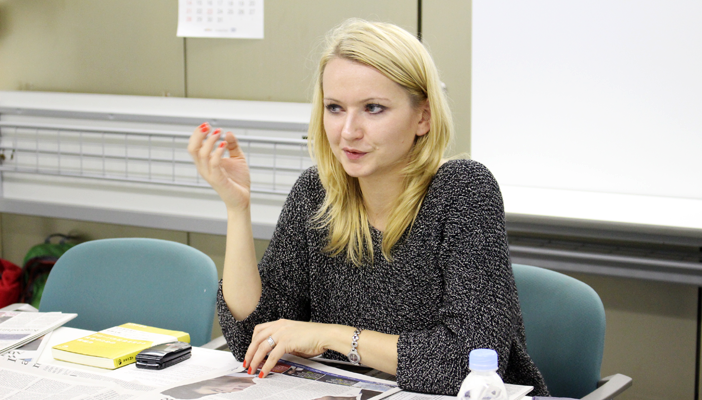 Career at The Japan Times: What it is like to work in Japan Times?
Thuy: How did you join The Japan Times?
Magdalena: Well, actually before starting to work at The Japan Times, I started my career in Japan at The Japan Times' parent company. 
Miyuki: What kind of work do you specifically do at The Japan Times?
Magdalena: Within the first months at The Japan Times, I mainly translated news we receive from Kyodo News, a Tokyo-based Japanese news agency. After a few months I started writing my own articles, although translation remains my primary job. The articles I translate generally cover everyday news ranging from accidents and murders to political issues. In addition, I write my own stories, including those based on interviews for our community column called "Telling Lives." This column spotlights foreign nationals involved in interesting activities in Japan and Japanese contributing to cultural relations between Japan and other countries. This is my main duty.
Miyuki: How often do you write your own articles?
Magdalena: I usually write for a column called "Telling Lives," which appears once a month. There are some articles I write based on information received from Kyodo News. If there is something we can check more throughoutly, find more information regarding the issue covered in the articles we receive from the news agency or other hot topics, I make a research using all available sources or contact experts familiar with the issue by phone. If I manage to access more detailed information or find a new angle to the story I write the article under my byline. 
Thuy: Do you think that your core strengths are your language skills,: fluency in Japanese and English? Do you face any difficulty at work?
Magdalena: Before starting work at The Japan Times, I already had an experience as a translator and interpreter, so I had enough ability to juggle Japanese and English to some extent. However, being fluent in a foreign language is not everything. When I started working at The Japan Times, I also realized that writing in Japanese significantly differs from the English style. The articles we receive from news agencies are written in Japanese, which contrary to English-language sources or publications allows a certain level of ambiguity. As an English newspaper, The Japan Times provides articles with clearer statements. We structure our articles to inform the reader "what," "when," and "where" happened in the first paragraph, so readers do not have to read the entire article to grasp the essentials of the topic. In addition we try to clarify terms and background related to the story, which may be necessary to understand for example political issues. This style contrasts Japanese articles.
Miyuki: Is The Japan Times for Japanese people or foreigners?
Magdalena: It's for both. Foreigners make up about 70% of our readers, but there are also many Japanese people who use the paper to improve their language skills or want to get more information about a certain issue, by comparing what's written in Japanese-language newspapers with our content.
Miyuki: How long are you in the office each day?
Magdalena: I usually stay from 10am to 6pm and during that time I translate or write stories, working in cooperation with news desk – editors who assign reporters and coordinate coverage of news events, as well as copy editors. I often conduct interviews by phone but articles can sometimes be submitted from outside, when reporters attend a press conference or conduct an interview outside of the office, which helps them save time in order to meet the deadline.
Miyuki: I also noticed that there are many female workers here…
Magdalena: Right! That's one of the good things about this company. The Japan Times has a well designed system to support working mothers, which enables women to continue work using short working hour system after returning from a child care leave, so women can easily return to work after giving birth. Our managing editor is the first woman in Japan to hold such a top post in a Japanese newspaper. She described her struggles with juggling her job and family while she was working as a reporter and head of the domestic news division in her book. I think she has contributed to improving working environment at The Japan Times, friendly to working mothers.
In general I think The Japan Times is very international, comparing to traditional Japanese companies. What's great about the company is its open-mindedness in allowing women to work and show their strength.
Cindy: Are other newspaper companies in Japan still traditionally minded then?
Magdalena: Yes, I think so. According to my observation and from what I've heard, without sufficient support to balance work and child-rearing, many women are still not able to realize their full potential. Also, many Japanese companies tend to be very hierarchical and employees are more compelled towards the goals of the group rather than their own. I believe, however, that even old school corporate culture is understandable as long as there is a room for creativite thinking and employees can feel encouraged to demonstrate their abilities.
Thuy: What is the best thing in your current job at The Japan Times?
Magdalena: Everyday you learn about different things. You confirm new facts related to a certain issue. That provides a good opportunity to learn new things. Also, you learn from other people. This job allows me to meet new people and encounter new information, new views and opinions by interviewing them. That is a great way to learn and broaden my knowledge.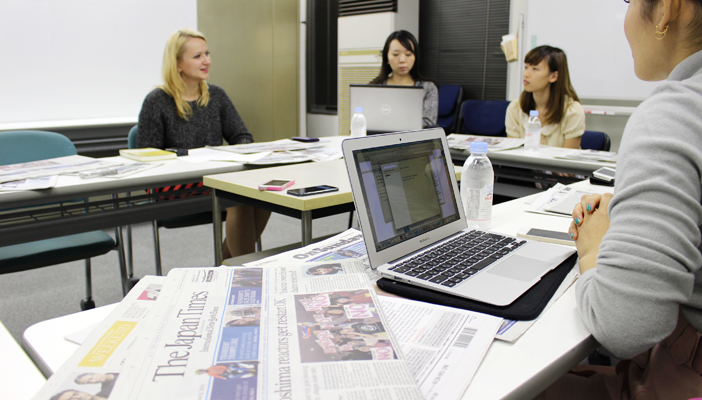 Why Japan? What made her stay in Japan for long?
Miyuki: We would like to ask more about yourself: why did you choose to learn Japanese?
Magdalena: I wanted to learn Japanese since I was seven. Several movies such as Shogun featuring Richard Chamberlain I watched that time, left a large impression on me and inspired me to learn Japanese and I have also been interested in : Japanese history and culture. I started learning Japanese at the university, and ended up majoring in Japanese studies and linguistics.
Miyuki: What brought you here in Japan?
Magdalena: I think that everyone who majors in Japanese language or culture probably wants to come to study in Japan at some point. And that's exactly what I did. My grades allowed me to come to Japan for one year. It was an exchange program. My initial plan was to stay for one year. At that time, I didn't have concrete plans what to do afterwards but since I got a job at a Japanese company I decided to use this opportunity to broaden my experience and stay in Japan for a while.
Miyuki: How does Polish culture differ from Japanese culture?
Magdalena: It is a difficult question because we cannot compare and explain cultural differences in just a few words. I think that Japan is gradually becoming more and more open, so it is also becoming easier for foreigners to adapt quickly. Japanese people are very friendly and polite and willing to help out foreigners. The fact that many people helped me in the beginning when I first came to Japan, made my life much easier. In European countries, it may look like foreigners tend to be left alone to deal with everything by themselves, as in many western countries you are often taught to solve problems and handle every situation on your own, in belief it will sharpen your independence.
Miyuki: That's nice to hear! I thought it would be hard for foreigners to live here because of the language barrier.
Magdalena: Well when I came here I was already in my 5th year of my studies, so I could speak the language. Otherwise it may have been more difficult for me to manage on my own in Japan that well, I suppose.
Some of you may be interested in knowing if Japanese fluency is essential to get a job in Japan. I would say it always works to your advantage. It's easier if you can understand Japanese and do anything independently without relying on other people.
Miyuki: Do you have any other plan to work internationally?
Magdalena: I have never worked in any other countries, but at The Japan Times, I have a chance to work together with people from different parts of the world – Japan and many English-speaking countries, which makes this experience invaluable.
Su Li: Could you share with us the top reasons you want to stay in Japan and why you would prefer working in Japan instead of other countries?
Magdalena: For the time being I think this opportunity at The Japan Times has been of great benefit, so I would like to continue to work here for a while. Any job in which you can utilize your abilities is worthwhile. That is what I believe.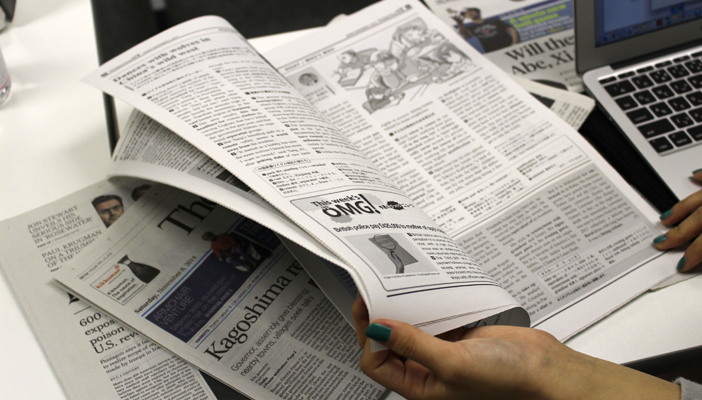 Job hunting in Japan:
Su Li: After staying one year in Japan, what made you stay longer than one year?
Magdalena: During my study abroad in Japan, I found my first job. That is the main reason I stayed here. Although it was initially a one-year contract, it was prolonged soon afterwards and since I found this experience a good opportunity to brush up my Japanese and gain other skills, I decided to stay.
Suli: About your first job, may we know how you got the info about it?
Magdalena: My friend told me that the company was searching for people who could speak Polish that could help with establishing a new branch in Poland . That was actually the only interview I had for my job hunting and fortunately I got accepted. I was lucky because the fact I was fluent in Polish, which is my mother tongue was my strong point but I also had experience working as a translator and an interpreter in Poland. In fact, I had not done much research before applying for the job.
Suli: You have mentioned that Japan has become more and more open to foreigners. What is your opinoin regarding recruiting foreigners?
Magdalena: I cannot say anything about recruiting in Japan. But I think Japanese people are becoming open to differences, and now they accept diversity more than before. When I came here almost 10 years ago, foreigners were expected only to adjust to the company's culture. But now they are rather expected to show other skills and abilities specific to different cultures, which, I hope, may enable Japanese people to learn something from them, too.
Suli: I have just started learning Japanese for 2 months and now interested in finding jobs in Japan. I would like to ask, for people like us, with just basic Japanese skill, do you have any suggestion where should we go and the kind of job we should try?
Magdalena: It also depends on your expectations. Many companies try to transform and become more global. People who don't speak Japanese could help employees improve their English skills. For example, in my case, I could speak Japanese from the beginning, so many people in the environment I used to work in believed it was not necessary to try to communicate in English with foreigners. If you are fluent in Japanese of course it will work to your advantage but many companies are changing their policies so English is the first language to communicate.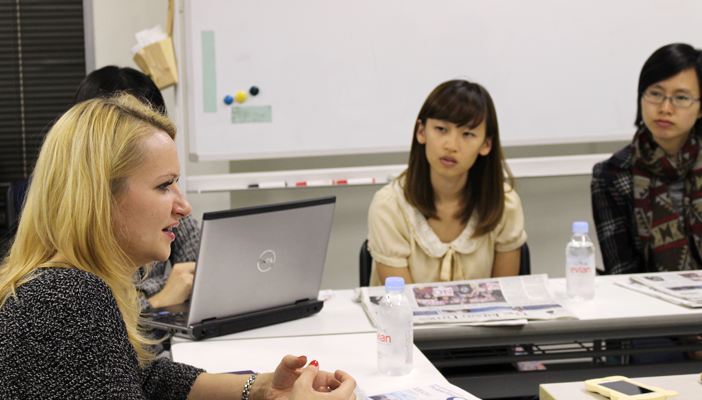 Working in Japan, as a female, and as a foreingner:
Thuy: What would be the strength and weakness of a female foreinger in Japan?
Magdalena: When I first came here, I heard that being a foreigner and a woman makes it a "double punch." When I started working in Japan, I definitely experienced this kind of 'double punch': I joined the team together with another Pole – a male – and our colleagues would give us instructions or ask questions, including those addressed to me, only through my friend. It was because Japanese co-workers did not know how to talk to me, since I am a foreigner plus a woman. But it was just in the beginning, as they soon realized that I can communicate in Japanese. Now I know, that they simply needed some time to get used to the idea of working with a foreign woman. Nowadays, since there are more and more foreigners coming to Japan, I think the same kind of problems do not occur anymore.
Miyuki: How can you balance between work and life?
Magdalena: The truth is if you work in Japan you spend more time in the office or working overtime than in some western countries. I am trying, however, to find some time to engage in some enrichment actitvities at the moment.
Suli: Speaking from your personal experience, is there any discrimination against female or foreigner here in Japan?
Magdalena: I was once told by a person who supposedly was not used to communicating with foreigners, that a conversation with me was meaningless because I am a foreigner whose Japanese skills are for sure insufficient to get the message across. I think people who have never lived abroad or never talked to foreigners, might be surprised that foreigners can speak Japanese and are able to understand Japanese people. However, now as things have changed, people are more aware that communcating with foreigners does not differ much from communicating with people of the same nation.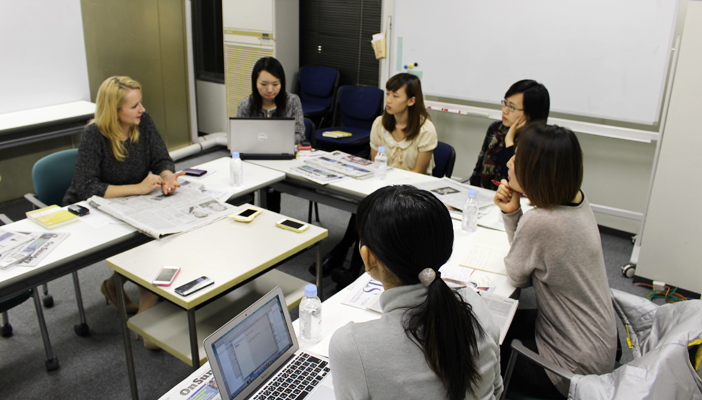 Message to student like us:
Magdalena: The most important thing is not to be afraid of failure. If you accept the fact that you might be wrong, you can ask someone for help, you can learn from others, you can compare different ways of thinking and overcome hurdles because you can understand things from different angles. Taking up new challenges is always beneficial. If you are not afraid of a challenge , you can move mountains and overcome any hurdle.